No more sling! NSAIDs are back!
I saw the orthopedic surgeon this morning for my 6-week follow-up appointment. The great news is he said I can stop wearing the sling! The other great news is now that I'm 6 weeks post-op I'm allowed to take ibuprofen again! NSAIDs can delay bone healing. Since all of the damage that was repaired in my shoulder was bone and cartilage I was not supposed to take any NSAIDs for 6 weeks. Tylenol really does not work for me at all. They prescribed Gabapentin and Flexeril (a muscle relaxer) immediately post-op, but both of those are hard for me to function on because they can make you sleepy and brain-foggy. So hooray for NSAIDs!
Opening for business!
I'm also opening my office for physical therapy patients and Pilates clients again. I've been seeing a few folks the past couple weeks as I tried to ease back in. Now that I don't have to deal with the sling and have at least partial function of my right arm I'm welcoming back more of my people. I'm looking forward to seeing everyone again.
Scapulohumeral rhythm
I plan on posting again soon with my updated exercise routine. For now I wanted to write about what's going on with my shoulder movement. When you raise your arm there is a certain amount of motion that comes from your scapula (shoulder blade) moving on your back and a certain amount that comes from your glenohumeral joint (the ball-and-socket shoulder joint). It varies somewhat between individuals, but generally the first 30 degrees of elevation is from the glenohumeral joint alone and the rest of the motion occurs in a 2:1 ratio of glenohumeral motion to scapular motion.
As you can see in this video, that is not what is happening right now for my right shoulder.
Due to the surgery, which among other things tightened up the joint capsule of my right glenohumeral joint, almost all of the motion is coming from my scapula rotating a whole lot on my back. Almost none of the motion is coming from my glenohumeral joint itself. My hypermobile scapulothoracic joint is more than up to the task of making up the difference for my hypomobile glenohumeral joint. But this is making my rhomboids and trapezius muscles on the right very cranky (painful) about having to do all this work to turn my scapula. So most of my pain (which at least now I can take ibuprofen for, yay!) is coming from those overworked and underpaid rhomboids. The surgeon says this is what he expects at this point, that it will get better with time and PT, and that I should stop worrying so much.
I'll take another video when this is improved in the hopefully not-so-distant future to show you how it changes.
Shoulder external rotation range of motion
I also have very limited external rotation range of motion. This is my tightest direction. As you can see from this photo, it's got a long way to go to be anywhere near like the other side. Ideally both hands should be able to open to the sides about equally. The surgeon says he expects it to eventually be within 10% of the motion of the other side, which would have no effect on function.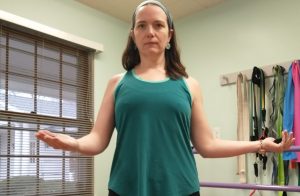 Incision scars are looking good
I'm including the following photo just because I thought you might like to see how well my incisions are healing up. There are 2 in the front of the shoulder and 2 in the back. I've been using Mederma on them, using my microcurrent point stimulators on them which are great for remodeling both external and internal scar tissue, and doing scar massage techniques on them daily. They are looking pretty good and will probably barely be visible in a year or so.