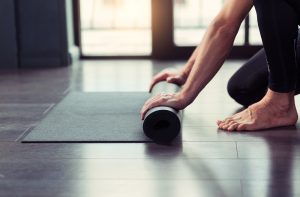 College Hill Pilates and Physical Therapy LLC offers group Pilates mat classes on most Mondays from 6:30 to 7:30 p.m at College Hill Yoga (5838 Hamilton Avenue, a few blocks south of the CHPPT office).  Classes are led by Mindy Nagel, a Doctor of Physical Therapy and board-certified Orthopaedic Clinical Specialist with a background in ballet, jazz, and modern dance.
Free parking is available behind the building, and all levels are welcome!
If you are a dancer or dance instructor, healthcare provider, or a business owner and would like to post information about our classes at your school, studio, or place of business, please download our flyer.
Prices
For a limited time, you can enjoy your first class for free! After that, classes are $15 each, or you can buy a five-class card for $60 or a 10-class card for $100.
Class Schedule
There will be no group Pilates class on June 24, July 29, or August 5.  As of now, we plan to hold classes on all other Mondays through the end of summer.
Please Join Us!
You can use the form below to register for one of our upcoming group classes. (Don't worry, walk-ins are welcome too!) If you have any questions, please call us at (513) 445-WELL (9355).