Busy, busy, busy!
Yesterday was the 3 month anniversary of my shoulder dislocation caused by tripping on a sidewalk crack while jogging. The strange thing is that even after 3 months I still feel detached from this injury, like I'm watching someone else go through it and working on it as if I were my patient. When I talk about the injury and the recovery process it feels like I'm talking about someone else. I've read that this can happen as a result of trauma. But I think it also has to do with the fact that I am a physical therapist and therefore my natural inclination is to look at an injury objectively with an outside observer's perspective.
I haven't written a blog entry about my shoulder injury recovery in a while because I have been so busy with the re-opening of my office! It didn't take long to get back up to a full schedule of patients and keeping up with that is just a little challenging with my shoulder not being 100%. It's a common challenge that as we recover we start to add our usual activities back into our lives and the time we have to devote to rehab, rest, and recovery starts to get chipped away. So I'm working really hard to balance my time between treating myself and treating my patients. I'm so thankful to be back in the office seeing patients and clients though. This past year has taught me how much I need that for my own mental well-being!
Sleep
Right now I'm about 10.5 weeks post-surgery. A lot of things are getting much better. The biggest success I can report is that I have finally been able to sleep in my bed again for the past week or so! This is a huge deal for me and it took much longer to get to this point than I anticipated. Sleeping is one of my favorite hobbies and, not to brag, but normally I'm really good at it. While I'm thankful to have a recliner that I could sleep in, it's just not the same as being in my own bed. I had been sleeping in the recliner since the initial injury on January 14th with the exception of a couple of failed attempts to sleep in bed. Each time I tried I would wake up after less than an hour asleep with pain in my shoulder that just wouldn't calm down with adjusting positions. I would have to get up and get some ice on it and go sleep in the recliner. For a while it was to the point where I didn't even want to go to sleep (even in the recliner) because I knew when I woke up I would be in intense pain. I'm still not sleeping that well — waking up with pain and needing to adjust positions frequently throughout the night and getting maybe 5-6 hrs of sleep each night — but at least now I can fall back asleep without having to get out of bed.
Strengthening
This phase of rehab is generally supposed to be a time of building strength and it's coming along pretty well. I've been able to add free weights to most of my exercises and to increase the resistance level of the Theraband I'm using for others. My shoulder is tolerating working at a computer now and most of the manual therapy I normally do. I've had to adjust the way I do a lot of things, especially manual therapy and manual muscle testing, to use my left shoulder for any force that needs to be generated. But overall, I don't feel terribly limited in the things I'm able to do for my patients.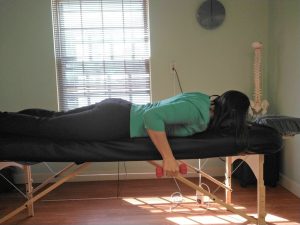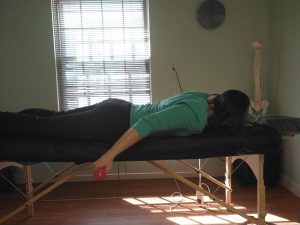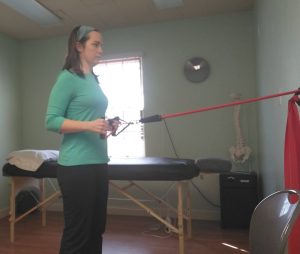 More on Scapulohumeral Rhythm
The biggest limitations continue to be range of motion and scapulohumeral rhythm. I had some folks send me questions about this after my last post. I wrote in that post about how the tightness of the shoulder ball-and-socket joint (aka the glenohumeral joint) is resulting in most of the motion when I raise my arm coming from the scapula moving on my back (aka the scapulothoracic joint). This must be improving on some level because the pain in my rhomboids and trapezius from being strained by the hypermobility of my scapula is starting to feel better and the relief I get after acupuncture or massage therapy is lasting longer. But some of you noticed that my injured shoulder was "shrugging" up when I tried to raise my arm. As you raise your arm the head of your humerus should glide downward to keep the ball nicely in the socket as your arm lifts. As I raise my arm no gliding is happening so my scapula has to rotate up and out to keep the ball in the socket as my arm goes up. If your humerus didn't glide AND your scapula didn't compensate in this way, the head of the humerus would roll right off the top edge of the glenoid. Not to worry in my case as the glenohumeral joint has been surgically stabilized and isn't going anywhere ever again. But as you can see from the video below, that "shrug" sign is still happening. That is a sign that physical therapists look for as it tells us that either the rotator cuff is not working well to stabilize the head of the humerus (ball) in the glenoid (socket), the muscles that stabilize the scapula aren't doing their job, or something is wrong with the joint mobility. My problem is a combination of the last two. As you can see in the video below, it's certainly a little improved if you compare it to last month's blog post, but still shrugging.
What's to be done about this? Dave, my physical therapist, uses manual therapy to work on the joint mobility for me. But you have to be careful with hypermobile people after this kind of surgery not to push too hard to get joint mobility because we really need to avoid that glenohumeral joint becoming hypermobile again. So you can't be too aggressive. Yesterday Dave also worked on getting some better activation from my lower trapezius muscle to help stabilize the scapula, which seemed to help quite a bit.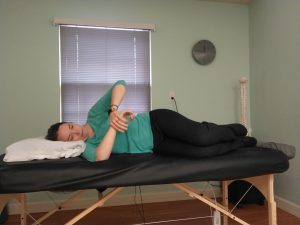 I'm also continuing to work on stretching that joint as much as possible on my own with the scapula stabilized by lying on it.
And of course I'm working to strengthen anything I can to stabilize the joint and the scapula including the rotator cuff muscles, which are the muscles that stabilize the head of the humerus in the glenoid socket, and the lower trapezius and serratus anterior, which work to stabilize the scapula. But I know everyone who has ever had to recover from an injury feels my pain when I say that it seems that the one thing I can't do anything about is the truly limiting factor here — time. Some of this is just going to take time.