I went in for surgery on Monday as planned. In pre-op a nurse placed the IV and gave me some meds through it. One was an antibiotic and the others were anti-nausea medications since I tend to get nauseous very easily from anesthesia. They also gave me a scopolamine patch behind my ear. This is the type of patch that is often used to prevent motion sickness.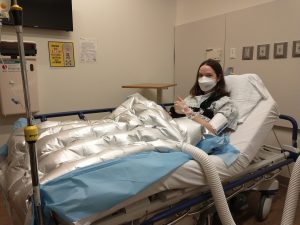 An anesthesiologist gave me a nerve block using ultrasound guidance. He explained that this was actually two different types of nerve blocking agents. One of them was meant to be short-acting for during the surgery. The other was supposed to be long-acting so that I would have two to three days of pain relief from the nerve block itself after surgery. I told the anesthesiologist that local anesthetic wears off very quickly with me if it works at all. Even though I've never had a nerve block before I was worried that it would wear off quickly. He said that between the medications he was using and the ultrasound guided placement he was sure that the nerve blocks would work.
After all of that it was really just a waiting game waiting for the surgeon to be ready. I have been very anxious about this surgery and waiting around just amplified all of that. My husband was allowed to come back to the room with me for pre-op, so at least I had someone to keep me company. The surgeon stopped by the room and marked the right shoulder. I was able to talk to him about what he was doing and make sure he understood that no matter what he saw when he got into my shoulder the most important thing is to make sure it never dislocates again.
In the surgical suite I transferred myself from the bed I was using in pre-op to the table for surgery. For this type of surgery they actually operate with you somewhat sitting up in a reclined position so you lie flat on your back on the table and then after they give you anesthesia they sit you up to operate. The surgeon was able to do everything we expected and didn't find anything extra like any rotator cuff tear or anything that he wasn't expecting. When he spoke to my husband while I was still in recovery he told him that the labral tear was all the way around from the front side to the back. If you think of the glenoid (socket) as a clock the PA told me the surgeon repaired it from about the 10:00 position all the way around the bottom and up to the 2:00 position. That is called a 180 degree labral tear. So it definitely needed to be repaired  The surgery went according to expectations and he said my shoulder was significantly more stable when they checked it after the procedure, which is great!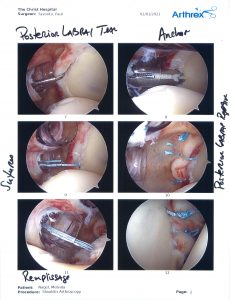 After the surgery my husband spoke to the surgeon who gave him photos from the scope of the inside of my shoulder and basically confirmed that he had done what we set it to do.
When I was in the recovery area I woke up from the anesthesia with significant pain  It appears that the "long-acting" nerve block did not do what it was supposed to do which is keep my shoulder numb and gradually wear off over a couple of days to make that immediate post-op pain tolerable and so that you don't fall off a cliff from short-acting nerve block to pain. Pretty sure I fell off that cliff. So in recovery they gave me some medication to help with the pain. After keeping me in observation for a while to make sure I didn't have any adverse effects from anesthesia they sent me home with Percocet for pain and Zofran for nausea.
Pain management has been a big challenge. As I said, I'm not sure what the nerve block really did for me. It made my hand and wrist numb and I couldn't move my hand and still can't move it normally, but shoulder pain has been severe.  I woke up at 3am the day after surgery in terrible pain.  It was the same amount of pain as when it was actually dislocated. Ice doesn't help because the bandage on my shoulder is too thick for the cold to get through.
I contacted the PA, physician assistant, who writes all of the prescriptions for the surgeon. He called in gabapentin to the pharmacy for me. I took it but pain was no better. Next he called in a prescription for Flexeril, a muscle relaxer. But still the pain did not improve. So finally he recommended ibuprofen or Aleve. Technically I'm not supposed to be allowed to take ibuprofen or Aleve for 6 weeks after surgery because they delay bone healing. But he said it would be okay to take them for a couple of days just to get through this acute painful post-op phase.  So I took some ibuprofen and it seemed to help a lot. I'm still having a fair amount of pain, but not the screaming pain I was in before. Hopefully now my poor husband can be done running back and forth to the pharmacy!
All of these meds are making my brain slow and foggy. For example it took me much longer to write this than it normally would. But that's fine. I much prefer brain fog over extreme pain!
I can't wait to get through this immediate post-op phase. Next step is the follow up with the surgeon on Friday.