Yesterday I shared my pre-op exercise routine. Today I want to share something else I'm doing for self-care and to hopefully put myself in the best possible position for recovery and healing. I'm lucky enough to share office space with an acupuncturist!
Pre-operative acupuncture can relieve pain, anxiety and stress as you prepare for surgery.¹,²,³ Not only that, pre-op acupuncture has actually been shown to decrease post-op pain, significantly decreasing the need for opioid pain medications after surgery, as well as decreasing post-op nausea and anxiety.⁴ Postoperative acupuncture has been shown to enhance recovery and alleviate postoperative pain and nausea.¹
So, of course, I'm taking advantage of the expertise of Amanda Wellman of Wellman Acupuncture. Yesterday's treatment was the second I've had since my injury and after each treatment I was able to sleep through the night without being awakened by pain, which has not otherwise been the case.
I'm no acupuncture expert myself, but Amanda is great with educating her patients. She told me that these points are used to treat general pain, shoulder pain, tendon & ligament issues, stress, and to calm the brain.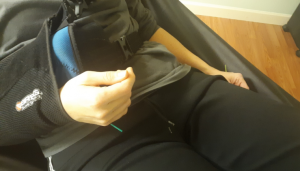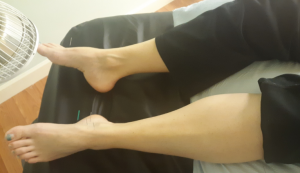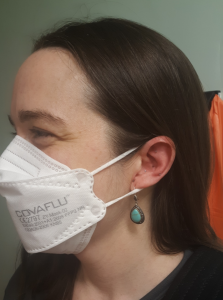 I'll be following up with Amanda as soon as I can post-op to keep these recovery benefits going!
---
1. Yuan W, Wang Q. Perioperative acupuncture medicine: a novel concept instead of acupuncture anesthesia. Chin Med J 2019;00:00–00. doi: 10.1097/CM9.0000000000000123
2. Hyojeong Bae, Hyunsu Bae, Byung-Il Min, Seunghun Cho. Efficacy of Acupuncture in Reducing Preoperative Anxiety: A Meta-Analysis
September 2014Evidence-based Complementary and Alternative Medicine 2014(2):850367
DOI: 10.1155/2014/850367.
3. Wang, Shu-Ming MD, Peloquin, Carol MD,  Kain, Zeev N. MD. The Use of Auricular Acupuncture to Reduce Preoperative Anxiety.
Anesthesia & Analgesia: Nov 2001; Volume 93 – Issue 5 – p 1178-1180.
doi: 10.1097/00000539-200111000-00024
4. https://www.asahq.org/about-asa/newsroom/news-releases/2020/10/acupuncture-before-surgery-means-less-pain-significantly-fewer-opioids-for-veterans