I was able to schedule the MRI for the very next day after the orthopedic appointment. The actual MRI experience wasn't too bad. Mostly just lying down flat on my back with my arm in a neutral position. They did have me rotate it one way for a few images and then the other for a few, which doesn't feel great.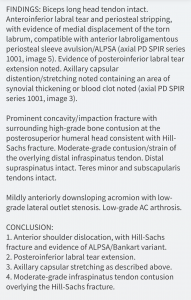 I got the MRI results as read by the radiologist the next day. A significant part of my labrum tore off, taking the lining off the bone next to it with it and folding over on itself. There's the Hill-Sachs lesion (dent in the head of my humerus previously described) which is described as "prominent." The joint capsule is stretched out with an "area of synovial thickening or blood clot noted." My rotator cuff and biceps tendon are intact, thankfully. But one of the tendons of one of the rotator cuff muscles has a "moderate-grade contusion/strain."types of Bankart lesioms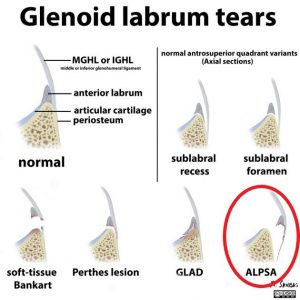 I have treated many, many shoulders in my 14 years as a physical therapist and I've never seen anyone with damage that severe to the labrum. This type of tear normal occurs in patients who have dislocated multiple times. This is my first complete dislocation, though because of hypermobility I have had many subluxations and episodes of instability.
I'm following up with the orthopedic surgeon on Monday, January 25. I assume he'll recommend surgery since with all of that damage, particularly the damage to the labrum, dislocating again is almost guaranteed if it is not surgically repaired. And again, I cannot emphasize enough that I NEVER want to experience that again.
Stay tuned for Part 4 for the follow-up with the orthopedic surgeon and the treatment plan!