Early in the morning on Thursday, January 14 I headed out for a run with plans to do intervals to try to get my steps in before work. I was coming around a bend about a quarter mile out when I caught my toe on a crack in the sidewalk and fell forward. I put my hands out to catch myself and fell mostly to the right. My hand stayed on the ground out in front of me as my body rolled to the right and I felt my right shoulder dislocate. Since I am hypermobile and my shoulders have never been very stable, I initially thought maybe it was just subluxated and maybe it would reduce by itself but as soon as I tried to move to stand up it was searing excruciating pain like I have never felt before.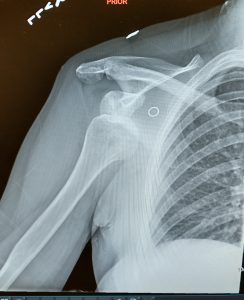 After walking the quarter mile home in agony my husband drove me to the closest hospital Emergency Room. I was given an intramuscular injection of morphine in a (failing) effort to make getting X-rays tolerable. The X-rays showed, to no one's great surprise, that the shoulder was dislocated anteroinferiorly and pretty spectacularly far from where it is supposed to be. They also showed that there were no fractures so it would be safe to reduce it without surgery. It was decided they would reduce it under conscious sedation and I was given Ketamine. That was I think the strangest experience of my life–a bit of an out-of-body experience and so, so trippy. They were able to reduce it without difficulty, gave me possibly the world's worst shoulder sling and sent me on my way with instructions to follow up with an orthopedic.
Pain is tolerable as long as my shoulder is in the sling. It feels extremely fragile when it's not in the sling and there's searing pain through it if I move it outside the sling in a bad direction. I'm using cold packs and electrical stimulation, which of course I am lucky to have easy access to as a PT, on it for pain control and to reduce inflammation
Unfortunately, being a physical therapist, I know all of the potential damage that could have occurred. I'm thankful that there were no fractures, but beyond that there can be rotator cuff tears, labral tears, compression fractures to the head of the humerus, problems with the biceps tendon, overstretching of the joint capsule and nerve damage.
Read Part 2 to learn about how the orthopedic visit went as I start to figure out exactly how much damage I've done!